a voracious feed reader embedded in wordpress
Why?
I think that you should reduce the distance between reading and writing. Tumblr, Facebook, and Twitter have all proven the importance of being able to re-share easily the things you love. Wordpress has a nice "Blog This" bookmarklet but it is just another step to take.
Instead, I'd like to bring a feed reader into Wordpress that lets you blog from your blogroll.
Features
Subscribe to sites via RSS or Atom
Auto-magically figure out feeds on a website
Blog directly from feeds
OPML Import/Export
Mark feeds as Private
Handy keyboard shortcuts
Goals
Create a blogroll dynamically from your feeds.
Let you share your OPML dynamically.
Integrate into Firefox as a feed handler.
Tag/Categorize feeds
That's a lot of work to do. I'm going to take a stab at it, but I'd love your help. Let's make wordpress even better.
Right now I've got a list of feeds and selecting a feed brings up entries in that feed.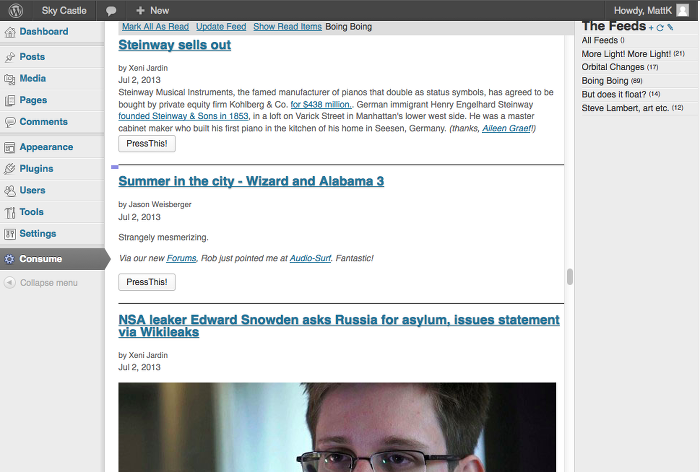 In your wordpress Admin Screen:
Click Plugins
Click Add New
Search the Codex for "Orbital". You should see a link for the Orbital Feed Reader page.
Install Plugin
Activate Plugin
If you want the very latest code, ssh into your plugins directory and clone the project with Git by running:
$ git clone git://github.com/mattkatz/Orbital-Feed-Reader
How To Contribute
Contributing is easy!
Bugtracker
Let's keep it decentralized! I'm using Ditz to track bugs. You can always use the github issue tracker, but check out what ditz gives you.
Authors
MattKatz on identi.ca or the tweeter or at morelightmorelight.com